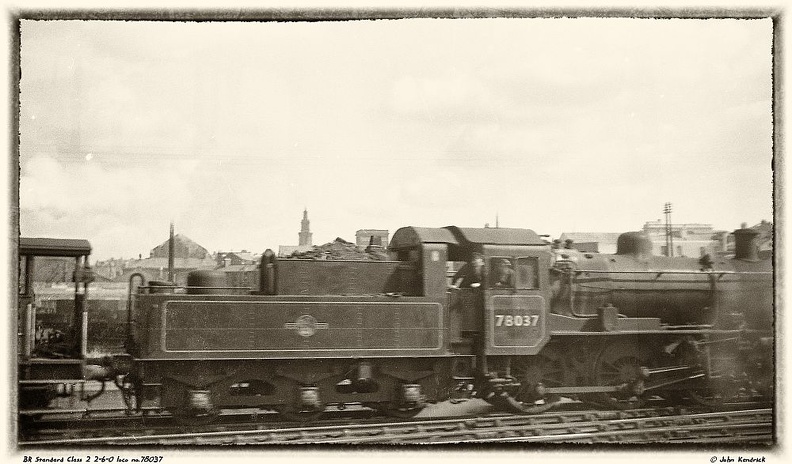 BR Standard Class 2 2-6-0 no.78037
West Coast Main Line, April 1962.
Built 1954 at Darlington Works, operated from the Lostock Hall sheds.
Withdrawn from service 31 May 1967 and cut up by the Motherwell Machinery & Scrap, Inslow Works, Wishaw in November 1967.

I believe this to be the only photograph of the loco on the WWW.

The loco lives on in miniature with the Pinewood Miniature Railway Society at Wokingham.


Author

John Kendrick

Created on

Posted on

Albums


Warning: Undefined array key "OSMJS" in /share/CACHEDEV1_DATA/Web/piwigo/_data/templates_c/ljbwkp_12f4p5h^d8b67ac19cd3772abbe1edb2a24d66ceae7baf10_0.file.picture.tpl.php on line 320

Warning: Attempt to read property "value" on null in /share/CACHEDEV1_DATA/Web/piwigo/_data/templates_c/ljbwkp_12f4p5h^d8b67ac19cd3772abbe1edb2a24d66ceae7baf10_0.file.picture.tpl.php on line 320


Visits

249